A new patent with vegan collagen booster for even more effectiveness.
Thanks to its patented combination of resveratrol, hyaluronic acid and vegan collagen booster, the Lightweight Firming Cashmere Cream hydrates the skin and corrects wrinkles while giving an instant healthy glow look thanks to its formula rich in natural origin pearly particles.
Composed with more than 97% natural origin and sensorial ingredients, its light and oil-free texture is an excellent make-up base.
Its aromatic complex leaves the skin lightly fragranced with notes of basil, lemongrass, chamomile, thyme and orange blossom.
Available in cream texture.
Cream texture available.
Caudalie is committed:
Fully recyclable packaging aiming for zero waste*
Sleeves made using less paper and no plastic film i.e. 40% reduction in carbon footprint emission.**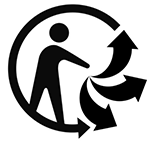 *Excluding multi-material pump dispensers and caps, which can be recycled through Caudalie Boutiques thanks to the Terracyle partnership.
**Estimate according to ACV Ecoinvent database.